The 10 Most Affordable Online Associate's Degrees in Cyber Security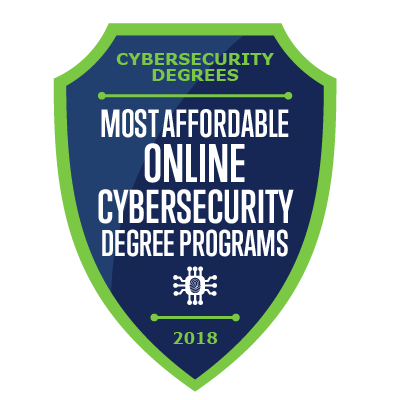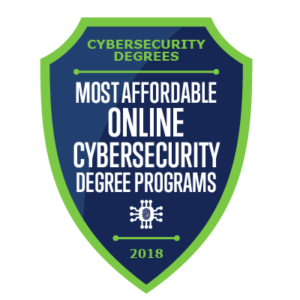 Recent high-profile security breaches, including the theft of personal information from 143 million Americans through Equifax, have thrown the stark reality of cyber security threats into high relief. As people become increasingly dependent on technology, cloud computing and virtualization, and more aware of the security risks these activities entail, the demand for professionals holding cyber security degrees is soaring. The Bureau of Labor Statistics predicts that jobs in the field of cyber security will far outpace that of the general job market, leaping 37% from 2012Ð2022. The ISACA, a non-profit information security advocacy group, predicts that there will be a global shortage of two million cyber security professionals by 2019. An associate's in cyber security can lead directly to a number of entry-level positions, while many graduates who have earned an associate's degree in cyber security go on to pursue a bachelor's. Salaries in the field are lucrative and steadily rising: Information Security Analysts earn an average of $84,188 annually, while Network Security Engineers take home $110,344, and IT Security Specialists can expect to make $113,532 per year.
With stimulating work, high job demand, and salaries that are high and rising, an associate's degree in cyber security is an attractive credential. Fortunately, it's also a highly accessible one. Vast numbers of students are choosing to pursue online cyber security degrees, which tend to be more convenient, flexible, and affordable than their traditional, on-campus counterparts. And as a discipline fully embedded in the virtual and tech space, learning cyber security in a digital classroom is an intuitive choice. Online cyber security schools leverage the latest technology, software, hack simulations, and virtual labs to teach industry-relevant and up-to-date skills. An associate's degree from an online school can be a great launching point for starting a career in cyber security, or beginning on the path to a bachelor's or master's degree.
Fortunately, earning an online associate's in cyber security can be surprisingly affordable. Our ranking brings you the ten online schools for this degree with the most affordable tuition. To calculate which are the most affordable, we've examined three factors: the cost of in-state tuition, out-of-state tuition, and the percentage of students receiving financial aid, all weighted equally. Each school included in this ranking is accredited, and a few are endorsed by the National Security Agency (NSA). Others offer special features, such as specializations, accelerated degrees, and additional cyber security certificates. Read on to learn how one of these affordable online associate's in cyber security can get you started in a stimulating and lucrative field.
1. Western Nebraska Community College

Western Nebraska Community College (WNCC) is a community college in Scottsbluff, Nebraska. The college started off in 1926 as an extension of the University of Nebraska, becoming fully independent in 1932. Today, the school has additional campuses in the Nebraska towns of Sydney and Alliance, as well as an active online learning system. WNCC specializes in providing comprehensive and affordable workplace skills training and career-focused degree and certificate programs. The WNCC Advanced Technology Center (the John N. Harms Advanced Technology Center of Nebraska) provides short-term, high-impact skills training to facilitate job creation for local companies, through computer-based training, construction trades, and machine tool and hazardous materials training. Nursing is a popular degree choice, and WNCC administers a school of Practical Nursing at each campus, and offers programs including associate's,LPN to RN, Practical Nursing and Pre-Professional. The school serves a student body of 2,400, and maintains a remarkably low student-to-faculty ratio of 13 to one- tied for lowest in this ranking. The majority of students are non-traditional learners, such as full-time parents or employees, those re-entering the workforce or professionals changing careers, and WNCC strives to meet their needs through affordable tuition, student supports and academic flexibility. WNCC has weekend and lunch-hour classes, as well as online programs, and provides services in tutoring, e-help, career counseling and advising to all students.
WNCC offers a high-quality online Associate of Arts Degree in Cyber Security, with the most affordable tuition of any institution surveyed here. In keeping with the college's focus on measurable workplace success, the program aims to provide real-world skills in programming, network communication, security concepts, and the administration of servers and operating systems. Students learn through hands-on labs and by viewing lectures, either live or on-demand, as their schedules allow. Online class sizes are small, and all instructors are experienced professionals with up-to-date credentials, who are able to provide real-world insights. The curriculum is designed to thoroughly prepare students to sit for the CompTIA A+, Network+, Security+, Linux+, and Microsoft Office Specialist certification exams, and provides students with free practice tests and certification exams. This industry-relevant and skills-focused associate/s in cyber security comes with an incredibly affordable tuition of $2,700 for in-state students and $2,928 for out-of-state. What's more, almost all WNCC students receive financial aid- a total of 93%, for the second-highest rate of any school included in our ranking.
2. Southeast Community College Area

Southeast Community College Area ("Southeast") is a two-year public community college system which serves a primary area of 15 counties in southeast Nebraska. The school's main campus is located in the capital city of Lincoln, with additional campuses found in Beatrice and Milford, along with another 20 off-campus learning sites. Southeast was originally established in Lincoln as a junior college back in 1941, and incorporated its additional campuses in 1971 and 1973. Today, the school serves a large student body of 9,180 through over 50 programs, with two-year degree, diploma and certificate options, and offers over 300 online courses each term. In spite of its size, Southeast has a remarkably low student-to-faculty ration of only 13 to one, and is tied for the lowest average class size of any school in this ranking. Southeast emphasizes meeting employer demands for specific skills, while maintaining a student-focus through engaging learning experiences and extensive support services. The school also prides itself on offering exceptionally affordable tuition.
Southeast awards an Associate of Science Degree in Computer Information Technology with a Networking Security & Support focus, with both full-time and part-time options, and offers classes both on-campus and online. The program provides comprehensive hands-on training in current technologies to thoroughly prepare students to execute the setup, management, support, and protection of computer hardware and software, networks and operating systems. Within the Networking Security & Support focus, students may choose to specialize in one of three additional areas: Network Management, Computer Support, and Network Security. Those interested in a career in cyber security may wish to select the Network Security specialization, which introduces students to the latest cyber security tools and practices essential to the prevention of security breaches and hacks. Coursework within this concentration covers security operations and ethics, Cisco security and computer forensics. Tuition in this highly specialized program is remarkably affordable. A full 84% of students receive financial aid. Out-of-state tuition costs just $3,929, and in-state tuition is even more affordable, at $3,214.
3. Cuyamaca College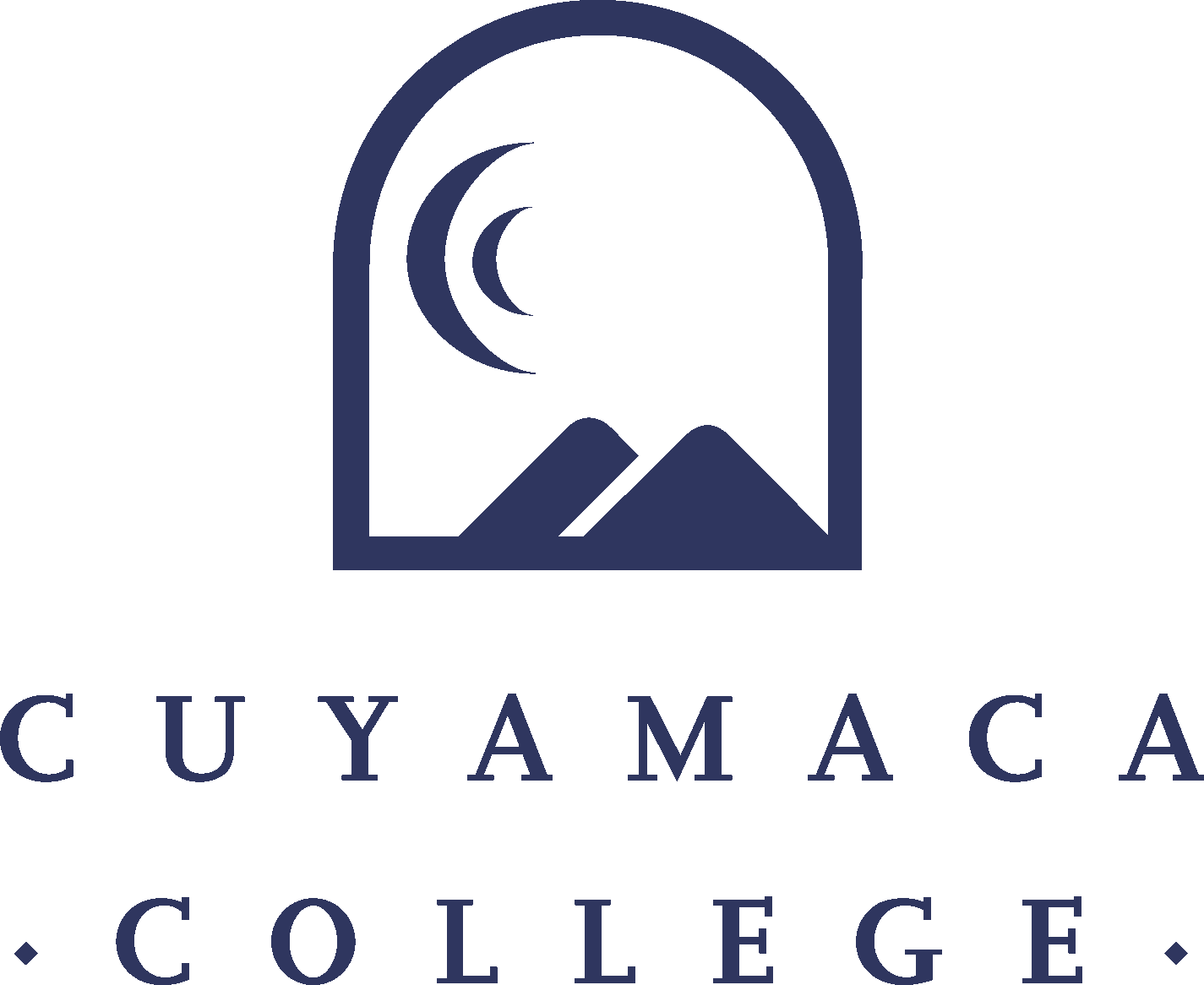 Cuyamaca College is a community college which serves the eastern suburbs in the San Diego area, and is based just outside of El Cajon, California. The college was founded in 1978, and currently serves a total of 9,922 students. The 165-acre campus is entirely smoke-free and comprises twelve classroom buildings, the site of the Heritage of the Americas Museum and a Water Conservation Garden, as well as recreational facilities such as an Olympic-sized track, fitness center and sports fields. Cuyamaca offers 81 associate's degree programs and 66 training certification programs. Cuyamaca has an impressive first-year retention rate, 71%, which indicates a high degree of student satisfaction, and prides itself on providing affordable tuition and comprehensive student support services. After completing associate's degrees, many graduates transfer to the University of California, San Diego or San Diego State University to pursue bachelor's degrees.
Cuyamaca awards a highly affordable Associate of Science Degree in Networking, Security, and System Administration. In this program, students acquire the professional skills required for the deployment, configuration, maintenance and monitoring of active network equipment, as well as overseeing network design and security. Students within the Associate's Degree in Networking, Security, and System Administration program may choose to specialize in Enterprise Networking or Enterprise System Administration. The former track requires the completion of 39-41 credits in the core field (in addition to general education requirements), and includes several courses in Cisco Networking. The latter track requires 38-40 core credits (in addition to general education requirements) and includes several courses in Linux and Windows Servers. In both specializations, the curriculum prepares students for certification in a broad range of industry certifications: A+, Network+, Security+, Linux+, Microsoft Certified Technician (MCT) in Windows and Windows Server (active directory, network infrastructure and applications infrastructure), Linux Profession Institute Certification Level 2, Certified Wireless Network Administrator (CWNA), Cisco Certified Network Associate (CCNA), Certified Ethical Hacking (CEH). Cuyamaca students take advantage of financial assistance at a high rate- 79%. The school has the most affordable tuition for instate students of any institute in this ranking, at $1,388, whole out-of-state students pay $6,896.
4. Bismarck State College

Located in Bismarck, the capital city of North Dakota, Bismarck State College ("Bismarck") is a comprehensive community college which offers both two-year and four-year degree plans. Bismarck was founded in 1939 in response to a community need for a local college, with an initial student body of just 107. Today, the school awards 20 bachelor's degrees, 35 technical programs, and over 150 online classes. With 3,781 students, it is the third largest college in the North Dakota University System. The school emphasizes value through affordable tuition and demonstrable institutional effectiveness, as measured by Institutional Research, Academic Assessment, and Department Review. Bismarck offers a unique program in Energy Studies, which includes no less than 12 nationally-recognized energy industry degree and training programs, such as nuclear power technology, power and process plant technology, electric power technology, and renewable energy.
Bismarck administers an affordable, cross-disciplinary, and fully-online Associate's in Applied Science in Cyber Security and Computer Networks. The program synthesizes system administration fundamentals with a grounding in cyber security models. Students learn best practices in the administration, implementation, securing of computer networks. The curriculum begins with core foundation classes in computer hardware, Windows, Linux, networking and security. Degree seekers then advance their skills through courses in databases, web design, and programming. Online students view the same challenging lectures as their on-campus counterparts, either remotely streaming and actively participating in discussions, or by viewing archived lessons at their convenience. The curriculum prepares students to go on to sit for such industry-standard certification exams as the A+, Linux+, Network+, Security+, CCENT, CCNA, MCSA, and MCSE. Bismarck administers an advanced Cyber Security Center, and sponsors students' participation in such cyber security competitions as the Collegiate Cyber Defense Competition and National Cyber League. This flexible online cyber security degree program has exceptionally affordable tuition. Some 81% of students receive financial aid, and out-of-state tuition costs $8,528, while in-state tuition is highly affordable at just $3,659.
5. Ivy Tech Community College of Indiana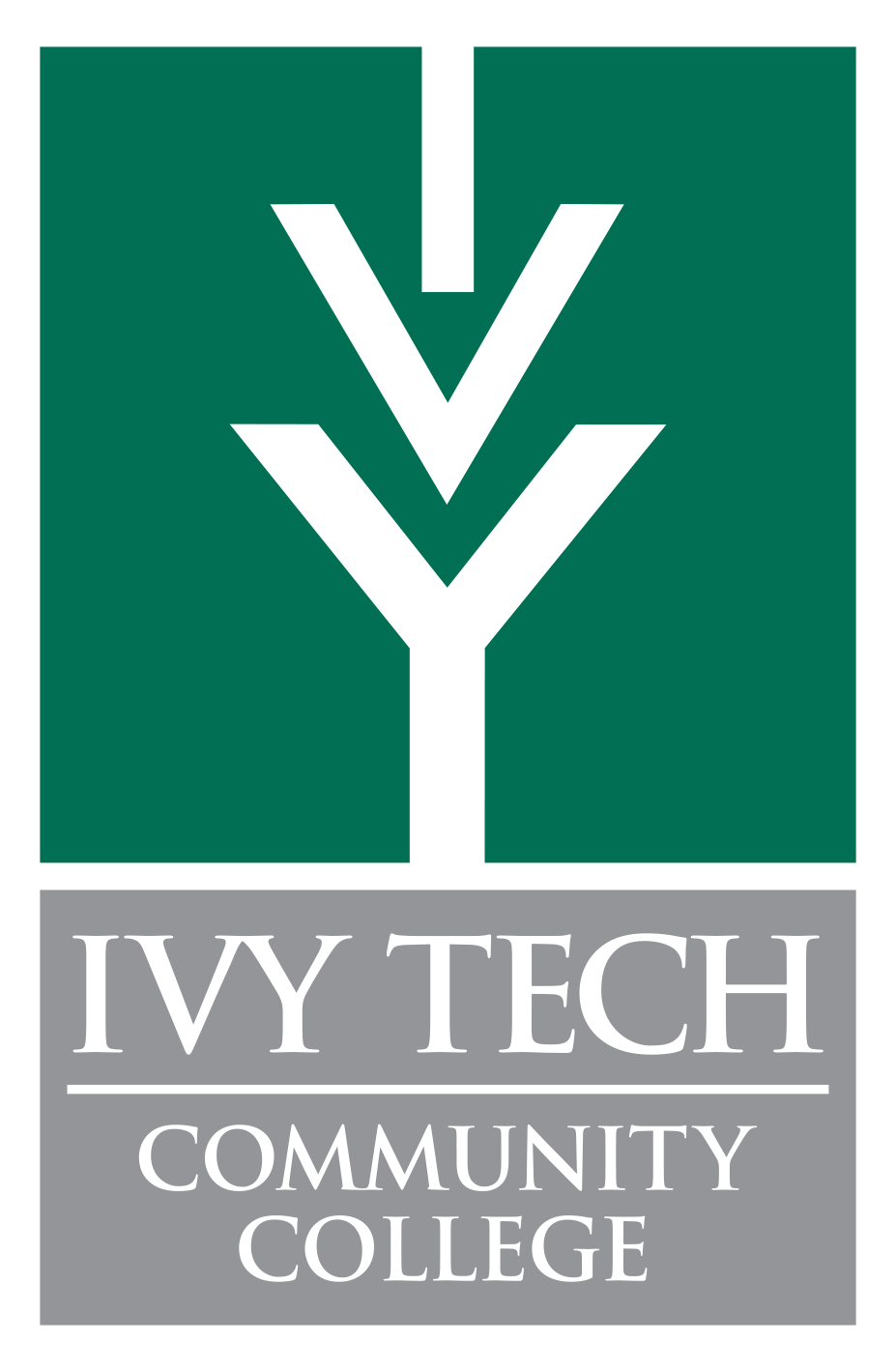 Ivy Tech Community College of Indiana ("Ivy Tech") is the community college system of Indiana, comprising some 31 campuses in 14 regions. Ivy Tech is the country's biggest singly accredited statewide community college system, and
Is the largest public postsecondary school in the state. The institute was established in 1963 in order to provide affordable technical and vocational instruction for a variety of industries. Today, Ivy Tech is offers more than 150 academic programs and concentrations, awarding technical certificates, career development certificates, and associate's degrees.Ê Ivy Tech has a student body of approximately 200,000, but maintains a relatively low student-to-faculty ratio of 18 to one. The school prioritizes providing accessible and affordable education, through personal attention, student support services, flexible delivery options, and some of the stateÕs most advanced technologies and training facilities.
Ivy Tech awards an affordable Associate of Applied Science Degree in Cyber Security- Information Assurance. The institute is certified by the National Security Administration (NSA) as a Center for Cyber Security in Education for Two-Year Colleges. The program is designed for students possessing advanced computer knowledge or who are currently employed in the computer industry. The course of study comprises 60 credit hours over the course of 4 semesters, and equips students with the hands-on skills required for security infrastructures and devices, with an emphasis on knowledge analysis, synthesis and evaluation. The curriculum is 30% general education and 70% professional/technical content. Students may also opt to pursue any of several certificates through Ivy Tech's Cyber Security Center, including Digital Forensics, Network Penetration, Network Security, and Information Assurance. A full 81% of Icy Tech's students take advantage of financial assistance, and the school has highly affordable tuition: $4,174 for in-state tuition and $8,052 for out-of-state.
6. Minnesota State College- Southeast Technical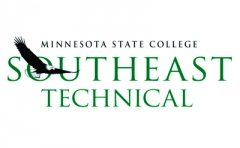 Minnesota State College Southeast is a technical and community college which was formed as a union between two technical and vocational schools based in the cities of Red Wing and Winona, Minnesota. The Winona campus dates back to 1949, while the Red Wing campus was founded in 1973. The two merged in 1992, and the school became a full community and technical college in 2016, awarding both associate's degrees and technical programs. The Red Wing campus is notable for its nationally renowned Red Wing campus is nationally respected for its string and brass instrument repair programs, which are attended by the professional band instrument repair techs of the United States Marine Corps and US Navy. The school has an enrollment of 2,896, and has a low average student-to-faculty ratio of 15 to one. The school is dedicated to providing career-focused education, hands-on learning, and affordable tuition. The school estimates that 95% of graduates find job placement in their chosen field. The most popular programs of study include Nursing, Band Instrument Repair, Truck Driving, Computer Aided Design (CAD) Drafting Technologies, and Accounting.
Minnesota State awards an interdisciplinary and affordable Associate of Applied Science Degree in Cyber and Information Security. The curriculum combines topics in the fields of networking, cyber security, forensics, and criminal justice to thoroughly prepare students to meet cyber threats in the workplace. It's also an affordable degree, ranked #1 in Best Online Associates in Network Security by GreatValueColleges.com in 2018. The 60 credit hour degree program covers topics in essential areas like wireless communications and networking fundamentals, as well as gathering digital evidence and working with the criminal justice system. Online students are given access to GPS Lifeplan, an online career counseling service. At 60%, Minnesota State has one of the highest first-year retention rates, indicating student satisfaction. A majority of students also take advantage of financial aid, with a total of 86% using this benefit. The school offers the same affordable tuition rate to both in- and out-of-state students: $5,590
7. Oklahoma State University Institute of Technology- Okmulgee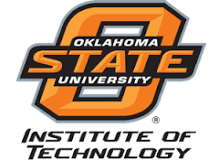 Located in Okmulgee, Oklahoma, about 40 miles outside of Tulsa, Oklahoma State University Institute of Technology (OSUIT) is a public and state-supported technical school which belongs to the Oklahoma State University System. OSUIT awards 37 Associate in Applied Science degrees and 3 Bachelor of Technology degrees. The institute was founded in 1946, when Oklahoma A&M converted an army medical facility into a branch campus, with the aim of providing vocational training for veterans. Today, the school is recognized for applied technology education, affordable tuition, and advanced teaching facilities. OSUIT holds partnerships with a number of Fortune 500 corporations, including Rolex, Ford and Caterpilar. The school has approximately 3,000 students, has a student to faculty ratio of 15 to one, and boasts a career placement rate approaching 90%.
OSUIT confers two affordable online associate's degrees in Information Technologies: an Associate in Science and an Associate in Applied Science. For those who choose to continue their studies, the school also offers a Bachelor of Technology with three areas of focus, including a Cyber Security and Digital Forensics option which is well-suited for a career in Cyber Security. The Associate in Applied Science program requires a total of 61 credit hours, while the Associate in Science degree takes 63. Core courses include Introduction to Computer Logic, Hardware Systems Support, Network Systems, and Principles of Information Security. Students who have prior learning, job training, or certification can acquire academic credit towards their degree through prior learning assessment opportunities, including faculty-developed challenge exams. At 96%, OSUIT has the highest percentage of students receiving financial aid of any school included in this ranking. It also has very affordable tuition, particularly for in-state students, who pay $5,100, while their out-of-state counterparts pay $10,710.
8. Central Texas College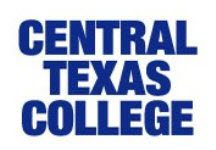 Founded in 1965, Central Texas College (CTC) is a community college in based in Killeen, Texas, with branch campuses around the world. The school serves a diverse body of 38,733 students, 4,628 of whom are enrolled exclusively in online learning programs. The college has small class sizes, with a student-to-faculty ratio of 16 to one. CTC awards a variety of associate's degrees and 40 certificates, and has earned a number of distinctions, particularly in the area of military education. CTC has been designated a ÒMilitary Friendly School,Ó by GI Jobs and Military Advanced Education, and ranked 1st in associate-level schools among military service members using Tuition Assistance, 3rd in ÒBest for Vets: Colleges 2016Ó in the category of online and nontraditional schools. Nationally, it ranks 14th among community colleges in degree production, and 16th for minority students. With so many of its students enrolled online, CTC is heavily invested in online learning. The school has been offering distance learning since soon after its founding, when it launched a correspondence courses, and launched an online education department in 1997. The college has been recognized by Best Value Schools as one of the best online community colleges in the country, and by Affordable Colleges Online as one of the best online colleges in Texas for 2017-2018.
CTC offers a highly affordable Associate of Applied Science Degree in Information Security. A total of 60 credits are required for graduation, and the curriculum follows a set sequence of required courses. Classes include Computer Systems Maintenance, Security for Homeland Security Specialist, Firewalls and Network Security, as well as general education classes like Composition and Algebra. The course of study concludes with either a 4-credit course in Security Assessment & Auditing or an Internship in Computer and Information Systems Security.
Online students have access to a number of virtual support services, including orientation videos, academic advising, tutorials, tutoring, and a virtual library. Tuition for this program is highly affordable. Some 71% of CTC students receive financial aid, and tuition costs $6,420 out-of-state, and a remarkably affordable $2,940 in-state.
9. Umpqua Community College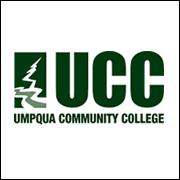 Established in 1964, Umpqua Community College (UCC) is a community college located six miles outside of Roseburg, Oregon, United States. The 100-acre campus has college is located alongside the North Umpqua River and has 16 buildings, a track, tennis courts, outdoor pool and even a vineyard. UCC serves approximately 3,300 full-time and 16,000 part-time students, and has a small average class size of just 16. The average student age is 29, and many take advantage of on-site day care offered by UCC. The most popular programs are career-focused studies such as Business Tech Retail Management, Nursing, Criminal Justice, Human Services, and Emergency Medical Services.
Degree seekers can earn a well-rounded and highly affordable online Associate of Applied Science Degree in Computer Information System Cyber Security through UCC. Through hands-on training, students learn high-level programming skills and proficiency in the use and management of server and desktop operating systems, switches, routers and ASAs. On top of this foundation, training in Cyber Security covers topics in ethical hacking, computer hardware, computer forensics, cloud services, virtualization, switches, routers, and Adaptive Security Appliance (ASA) devices. Finally, students also acquire the skills in business principles, project management and communication essential for success in the modern workplace. This well-rounded degree program is quite affordable. A total of 79% of UCC students receive financial aid, and out-of-state tuition is $8,980, while in-state costs just $4,417. In addition, residents of Washington, Idaho, Nevada, and California are eligible for the same affordable tuition as their in-state peers from Oregon.
10. Lake Superior College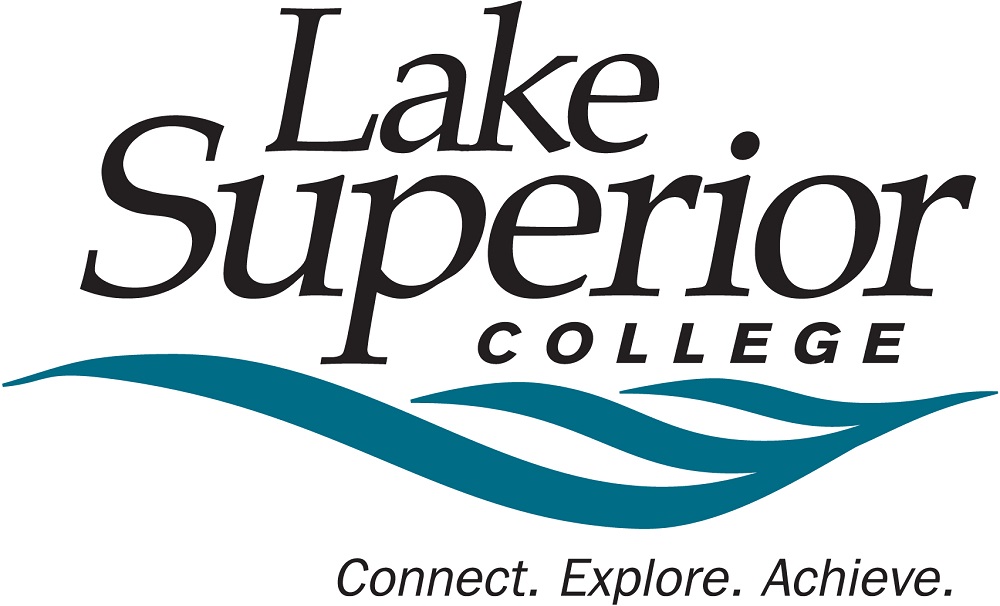 Lake Superior College (LSC) is a community and technical college which is based in Duluth, Minnesota. The school was founded in 1995 when the Duluth Technical College merged with the Duluth Community College Center to form a new, blended institution. The scenic 97-acre campus overlooks the Duluth/Superior harbor and the Saint Louis River, and features hiking trains and a fishing stream. LSC awards 90 high-quality, affordable certificate, diploma and degree programs in career and technical fields, as well as offering more than 150 online courses. The school's total enrollment comes to about 5,800, and some 25% of credits earned are delivered through the online learning platform. Through the school's department of Continuing Education/Customized Training, LSC partners with local businesses to design specialized and industry-specific training programs for both entry-level and advanced education. Popular areas of study include aviation, fire and rescue, healthcare, accounting, business administration, and computer and web programming. LSC has notably affordable tuition- the third-lowest in the Minnesota State college system
LSC offers an affordable and online associate in Applied Science in Network Administration and Cyber Security. Students enrolled in the program learn the learn how to provide technical support for computer networks within organizations, including server and network engineer skills, hardware support skills, and cyber security essentials. The program is designed to prepare students to pursue certification in CompTIA, Cisco CCENT, Microsoft MCP, or EC-Council Certified Ethical Hacker (CEH). The 72-credit degree curriculum includes such cyber security-specific coursework as Intrusion Detection and Prevention Systems Fundamentals, Network Forensics and Incident Response, and Ethical Hacking and Systems Defense. LSC also operates a Cyber Security Center which pursues business partnerships and real-world learning opportunities, and sponsors student's participation in Cyber Security competitions such as the Collegiate Cyber Defense Competition. This degree is quite affordable; tuition is priced at $5,096 for in-sate students and $9,470 for out-of-state. A total of 80% of LSC students receive financial aid.