Information Assurance and Cyber Security Degrees in Washington D.C.
Washington, D.C., is one of the best places in the country to pursue a career in cyber security. Besides the obvious presence of government-related security firms and contractors, D.C. is also home to dozens of major private organizations in finance, healthcare, non-profits, and more. In the 2017 Global Financial Centres Index, D.C. ranked as the 12th most competitive financial center in the world, and 5th in the United States. To meet demand for IS professionals, at least five colleges and universities in Washington, D.C., offer programs in cyber security, with more on the way.
Washington D.C. Cyber Security Jobs
According to the Bureau of Labor Statistics, cyber security professionals in Washington, D.C., earn a mean wage over $120k, making it the top-paying area in the country. It's also the most densely populated area for cyber security professionals, with about 12,200 workers in the D.C. and Northern Virginia, or over 350% more cyber professionals than anywhere else in the country. Potential employers include Northrop Grumman, L-3, Leidos, CYREN, Tenable Network Security, and PhishMe. Outside of the security field, other companies headquartered in D.C. include Fannie Mae, National Savings and Trust Company, The Glover Park Group, and many others.
Cyber Security Degrees in Washington D.C.
Bachelor's degrees in computer science, which include security coursework, are available from George Washington University for current or aspiring security analysts, ethical hackers, infrastructure administrators, security consultants, and technical support analysts.
Certificates in cyber security are available from George Washington and Howard University.
For those interested in an advanced degree, University of the District of Columbia, National Defense University, Georgetown University, and George Washington University all offer unique master's degrees in cyber security and related fields.
The 5 Best Cyber Security Degree Providers in Washington D.C.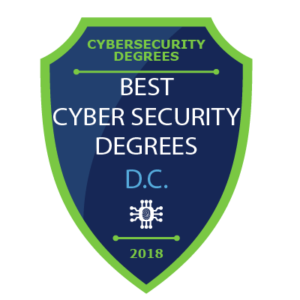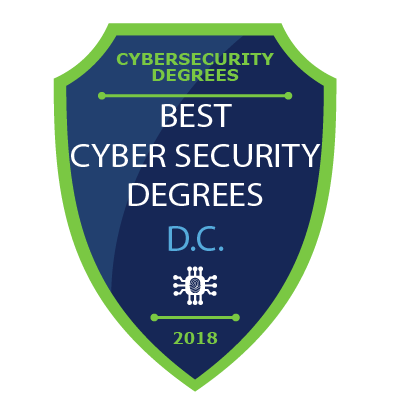 Perhaps unsurprisingly, there are many high quality cyber security (and related field) degree providers in Washington D.C.. We've taken a look at all cyber security degree providers in the region (and you can too in our directory below) and pulled out the top programs based on our detailed ranking methodology. Factors in the ranking of a school include whether they are an NSA Center of Academic Excellence, the range of cyber security-related degrees offered, and a wide range of metrics checking out academic quality, affordability, return on investment, and student satisfaction. For a detailed rundown of our ranking methodology as well as national cyber security degree rankings, check out our rankings page.
1) Howard University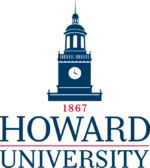 Howard University is a private historically black college located in Washington DC. The First Congregational Society of Washington established the university in 1867, after they expanded plans for a theological seminary, and have been offering undergraduate and graduate degrees ever since. Nearly 9,000 students attend Howard, which has an 8:1 student-to-faculty ratio. Howard is one of the largest HBCUs in the nation and has graduated more black doctorate recipients than any other non-profit university. Howard has an extensive graduate school and offers graduate and doctoral degrees in 36 areas, including Genetics, Computer Science, and Neuropsychology, and master degrees in 19 different areas, including Chemical Engineering, Mathematics, and Pharmacology.
Howard offers a Graduate Certificate in Cybersecurity. It requires 15 credit hours. It's intended for students with a Bachelor's degree in Computer Science or a related field. Students take four classes in Cybersecurity, then choose an elective course from the following three: Database Systems & Security, Wireless Network & Security, or Advanced Operating Systems & Security. The courses in this program can be used towards a Master's degree in computer science. The program culminates in a capstone project course.
Average Net Price Undergrad: 2nd-$22,712
Online Cybersecurity Degree Programs:
2) Georgetown University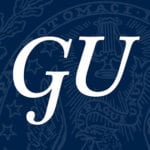 Georgetown is a private research university headquartered in Washington, D.C. It was founded in 1789, and is affiliated with Roman Catholicism. Beginning as Georgetown College, it has grown to now offer students access to nine undergraduate and graduate schools. Georgetown is known for its stellar faculty, including former Secretary of State Madeleine Albright, former U.S. Ambassador to the United Nations Jeane Kirkpatrick, U.S. Agency for International Development administrator Andrew Natsios, National Security Advisor Anthony Lake, and CIA director George Tenet. It serves over 18,500 students, with an improbably low student to faculty ratio at 11:1. Georgetown has been ranked 20th in the nation by USNR for 2017, and is a highly selective school (it was ranked "most selective" by USNR in 2015.
Georgetown offers a Master of Professional Studies in Technology Management with a concentration in Information Security. It explores enterprise security, privacy, information security assessment and management, and cybersecurity. The program is comprised of 10 courses, 30 credit hours, and can be completed online or on campus. It takes 2-5 years to complete. The program is broken into the following subsets: 2 core courses (Ethics in Technology Management and a Capstone), 3 foundation courses (Management of Technology, Systems Requirements, Financial Analysis for Technology Managemers), and then 5 elective courses.
Average Net Price Undergrad: 3rd-$26,625
Online Cybersecurity Degree Programs:
Master's in Information Security
3) University of the District of Columbia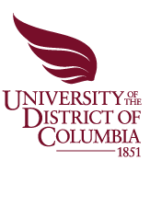 UDC is the only public university in Washington D.C. It was founded in 1851. It offers 68 undergraduate and graduate degree programs through colleges and schools of Agriculture, Urbana Sustainability & Environmental Sciences, Arts & Sciences, Business & Public Administration, Engineering and Applied Sciences, Law, Research and Graduate Studies, and its Community College. Over 4,300 students attend UDC, which offers a 9:1 student-to-faculty ratio.
UDC offers an MS in Computer Science with a concentration in Network Security. The program grapples with the rapidly changing economy and modern technology, and how it impacts information and network security. UCD prioritizes research and entrepreneurial thinking while teaching students who to design and maintain effective software, and much more. Sample courses in their computer science oeuvre include network security, database applications, algorithm design, artificial intelligence and digital image processing, and much more. UDC is an extremely affordable and high quality choice. It also gives students access to its STEM Center for Research and Development, which offers courses and enrichment activities designed to help students access research opportunities, boost competency, among other positive learning outcomes. This program requires 30 credit hours.
Average Net Price Undergrad: 1st-$15,153
Online Cybersecurity Degree Programs:
4) George Washington University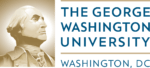 GWU is a private research university headquartered in Washington, D.C. It was founded by an act of Congress in 1821 in accordance with George Washington's wishes. The school has a very cozy relationship with the World Bank and International Monetary Fund (IMF), both with locations on campus. Over 27,100 students attend GWU, which maintains a 13:1 student-to-faculty ratio. The school offers degree programs in seventy-one disciplines, and is known for its programming in journalism, computer science, international affairs, and government. USNR ranked GWU 56th among National Universities in 2017.
GWU offers a BA/BS in Computer Science, an MS in Cybersecurity in Computer Science, a Computer Security and Information Assurance (CSIA) Graduate Certificate (GC), a Computer Security and Information Assurance Certificate, a Enterprise Information Assurance Certificate, an Online Master of Engineering in Cybersecurity Policy & Compliance, an Online Master of Professional Studies in Cybersecurity Strategy and Information Management , and an Online Master of Professional Studies in Security and Safety Leadership. This is significantly more cybersecurity programming options than many comparable schools, and its three online Master's programs in cybersecurity is the most on the list as well.
Average Net Price Undergrad: 4th-$39,562
Online Cybersecurity Degree Programs:
5) National Defense University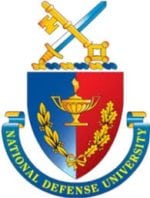 NDU is a higher education institution founded by the U.S. Department of Defense. Its goal is to train and educate students to help build the national security strategy of the future. It was founded in 1976, and is based in D.C. Its Master's programs require a one-year intensive study program. Currently, Vice Admiral Fritz Roegge, USN, is the school's president. It operates on Fort Lesley J. McNair, and works closely with the Joint Chiefs of Staff to this day.
NDU offers a Master of Arts in Strategic Security Studies. It can be completed in 10 months, and requires three phases. The first phase is the NDU-wide, "Foundations of Strategic Leadership," which comes from the Chairman of the Joint Chiefs of Staff's vision. Then students combine security studies and research methodology in the concentration of their choice. Concentrations include International Security Studies, Irregular Warfare, Counterterrorism, Homeland Defense, or South and Central Asia. Finally, in Phase III, students choose electives, work on a capstone exercise, and research/write a thesis. Students will learn throughout how to build national and international security strategies that apply to peace, war and crises.
Average Net Price Undergrad: 5th-N/A
Online Cybersecurity Degree Programs:
Cyber Security Degree Providers in Washington D.C.
Below we've included some of the most pertinent information for choosing a cyber security degree program. Affordability looked at the average in-state tuition rate (where applicable) and divided the range of tuition rates into five bins. Each bin contains a roughly $8,000 jump in tuition. So one $ contains schools from roughly $1,000 in in-state tuition to $9,000, $$'s contains schools from >$9,000 to $17,000, and so forth. Retention rate is one of the best predictors of undergraduate education quality. While the NSA/CAE designation marks programs deemed excellent by the NSA.
George Washington University
Washington, District of Columbia
Financial Aid Recipients
82%
Degrees
BA/BS in Computer Science / MS in Cybersecurity in Computer Science Computer Security and Information Assurance (CSIA) Graduate Certificate (GC) Computer Security and Information Assurance Certificate Enterprise Information Assurance Certificate Master of Science in Cybersecurity in Computer Science Online Master of Engineering in Cybersecurity Policy & Compliance Online Master of Professional Studies in Cybersecurity Strategy and Information Management Online Master of Professional Studies in Security and Safety Leadership
Georgetown University
Washington, District of Columbia
Financial Aid Recipients
53%
Degrees
Master of Professional Studies in Technology Management : Information Security
Howard University
Washington, District of Columbia
Financial Aid Recipients
90%
Degrees
Graduate Certificate in Cybersecurity
National Defense University
Washington, District of Columbia
Financial Aid Recipients
N/A%
Degrees
Master of Arts in Strategic Security Studies
University of the District of Columbia
Washington, District of Columbia
Financial Aid Recipients
75%
Degrees
MS in Computer Science: Conc. Network Security