Information Assurance and Cyber Security Degrees in California
California abounds with bright cyber security opportunities. The state is home to Silicon Valley and boasts fifth-largest economy in the world, and even new graduates holding cyber security degrees can expect to earn lucrative salaries. California is home to 18 institutions that award cyber security degrees, one of the highest numbers in the nation. Of these, 15 are recognized by the NSA as "National Centers of Academic Excellence in Cyber Security".
California Cyber Security Jobs
California's economy is the largest in the nation by a wide margin, and the state is home to over 10% of Fortune 500 companies. From tech giants to startups, Silicon Valley is home base for the majority of the state's cyber security jobs, though San Diego is close behind. Outside of these tech-centric cities, a great number of cyber security jobs revolve around big businesses in aerospace and defense, communications and finance. The state has the second-highest number of cyber security professionals in the nation. California also pays the fourth-highest annual mean salary, which the Bureau of Labor Statistics puts at $108,780 per year. When adjusting for the cost of living, Property Casualty cites Los Angeles as the #2 city in the nation for "Cities with the Best-Paying Cyber Security Jobs."
Cyber Security Degrees in California
Associate's Degrees in cyber security are offered by just three California schools: Sacramento City College, Cuyamaca College, and the California Institute of Arts & Technology.
Bachelor's Degrees in cyber security are offered by three institutions in California: Mt Sierra College, California State University- San Bernardino, and California State Polytechnic University- Pomona. The latter two are designated by the NSA as "National Centers of Academic Excellence in Cyber Security" (CAEs).
Master's Degrees in cyber security are widely available in California. A total of seven schools offer graduate-level cyber security degrees, of which four are recognized by the NSA as CAEs.
Certificates and Doctoral degrees in cyber security are offered by a number of institutions. A total of 10 schools offer certificates. The University of California-Davis and the Naval Postgraduate School offer Cyber Security as a concentration within Computer Science Ph.D. programs. Both are considered CAEs by the NSA, and are nationally well-regarded schools.
The 5 Best Cyber Security Degree Providers in California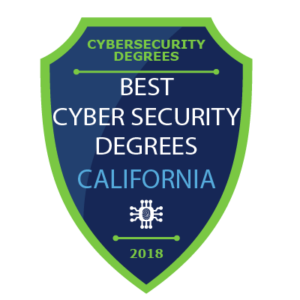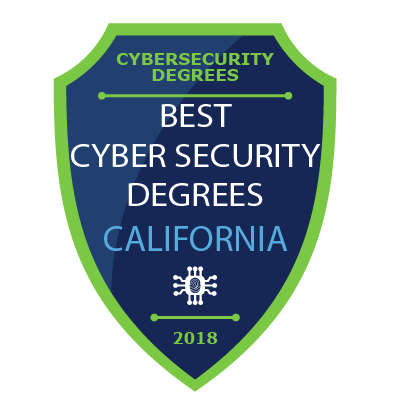 Perhaps unsurprisingly, there are many high quality cyber security (and related field) degree providers in the state of California. We've taken a look at all cyber security degree providers in the state (and you can too in our directory below) and pulled out the top programs based on our detailed ranking methodology. Factors in the ranking of a school include whether they are an NSA Center of Academic Excellence, the range of cyber security-related degrees offered, and a wide range of metrics checking out academic quality, affordability, return on investment, and student satisfaction. For a detailed rundown of our ranking methodology as well as national cyber security degree rankings, check out our rankings page.
1) University of Southern California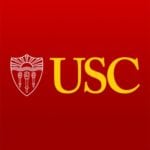 USC is California's oldest research university and was founded in 1880. It's one of the most popular schools in the country, currently serving over 43,800 students and offering a 9:1 student-to-faculty ratio. 95 undergraduate majors and 147 academic and professional minors are offered. The graduate program is classified as "comprehensive" and offers 134 master's, doctoral, and professional degrees through 17 professional schools. The Academic Ranking of World Universities ranked USC's combined departments of engineering and computer sciences as 10th in the world in 2015.
USC Online offers a Master of Science Cyber Security Engineering, in which students learn to develop, engineer and run secure information systems. Students will learn the modern challenges in "secure operating systems, secure applications, secure networking, use of cryptography and key management." The program also tackles how a security policy directs technology decisions. Graduates will be prepared to work in areas like Homeland Security, Intelligence Analysis, Computer Architecture, and much more. Sample courses include Policy: The Foundation for Successful Information Assurance, Secure Systems Engineering, and Applied Cryptography. The program includes hands-on projects that simulate real world scenarios in extensive laboratory work created by current and former information security practitioners.
Average Net Price Undergrad: 15th-$32,932
Online Cybersecurity Degree Programs:
Master of Science Cyber Security Engineering
2) Stanford University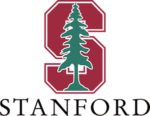 Stanford is a private, research university in Stanford, California. It was founded in 1891. It's an extremely prestigious academic institution that is known for its close ties to the tech industry and selectivity. Nearly 17,200 students attend Stanford, which has a 10:1 student-to-faculty ratio. It's comprised of 40 academic departments at the undergraduate and graduate level and four professional schools with graduate programs in Law, Medicine, Education and Business. It's consistently ranked among the top 5 schools in the world by a variety of sources.
Stanford offers an online Advanced Computer Security Certificate through its Center for Professional Development. The program has open enrollment, and encompasses six courses covering cutting edge research, practices and more from top cyber security professionals and Stanford faculty. You'll learn how to, "protect networks, secure electronic assets, prevent attacks, ensure the privacy of your customers, and build secure infrastructures." It costs $495 per course, which takes approximately 6-8 hours to complete, other than Software Security foundations, which takes approximately 11 hours. Students will complete each course within 30 days to maintain pacing for the certification. This program is suggested for students with a BS in Computer Science, its equivalent, or a background in security.
Average Net Price Undergrad: 12th-$16,695
Online Cybersecurity Degree Programs:
Advanced Computer Security Certificate
3) University of California-Irvine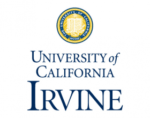 UC Irvine is a public research university located in Irvine, California. It's one of 10 campuses in the University of California (UC) system. It offers students 80 undergraduate degrees and 98 graduate and professional degrees. Over 32,700 students attend UC Irvine, which has an 18:1 student-to-faculty ratio. In 2017, U.S. News & World Report ranked UC Irvine tied for 39th among national universities and 9th among public universities in America. This year, Forbes ranked it 4th among its 300 Best Value Colleges, based on return on investment.
UC Irvine offers an online certificate in Information Systems Security. It takes 9-24 months to complete, and its average cost is $5,900. You'll learn to design, create and manage environments with secure information systems. Topics covered include, "access control, application development security, business continuity and disaster recovery planning, cryptography, information security governance and risk management, legal, regulations, investigations and compliance, operations security, physical (environmental) security, security architecture and design, and telecommunications and network security." Students will be prepared to sit for the Certified Information Systems Security Professional (CISSP®) exam through this program.
Average Net Price Undergrad: 10th-$13,780
Online Cybersecurity Degree Programs:
Information Systems Security Certificate
4) California State University-Fullerton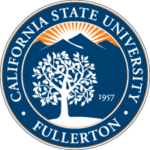 Cal State Fullerton is a public research university in Fullerton, California. It's the largest of the 23-members of the California State University system with over 40,200 students and a 25:1 student-to-faculty ratio. It offers students 109 degrees: 57 bachelor's degrees and 52 graduate degrees, including three doctorates from schools of the Arts, Business and Economics, Communications, Education, Engineering and Computer Science, Health and Human Development, Humanities and Social Sciences, and Natural Sciences and Mathematics. CSUF generates around $2.26 billion for California, and sustains 16,000 jobs.
CSUF offers certificates in Crime and Intelligence Analysis, Computer Forensics, and Cybersecurity Analysis. The Computer Forensics certificate can be completed online, in 8-10 months, with 92 hours of lectures and hands-on experience (for approximately $3,390). The Crime and Intelligence Analysis certificate is completed on CSUF's campus, and takes 12-18 months to complete ($3,800), including an internship and certificates from the California Department of Justice among other certifications. There isn't current information on the Cybersecurity Analysis certificate available, but CSUF has a dead link to one that existed at some point.
Average Net Price Undergrad: 6th-$8,170
Online Cybersecurity Degree Programs:
Computer Forensics certificate
5) University of California-Davis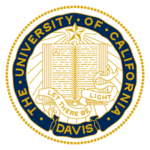 UC Davis, or Davis), is a public research university and one of the 10 campuses of the University of California (UC) system. It was founded in 1905. Currently UC Davis serves nearly 36,500 students while maintaining a 20:1 student-to-faculty ratio. Carnegie Foundation classifies UC Davis as a comprehensive doctoral research university with very high research activity. Davis has 104 undergraduate majors and 96 graduate programs through colleges of Agricultural Sciences, Biological Sciences, Engineering, Letters and Science, and then seven graduate schools. USNR ranked Davis 46th among National Universities in 2017.
UC Davis offers a Master of Science in Computer Science with an Information Assurance Focus and a PhD in Computer Science with an Information Assurance Focus. The former takes 2-3 years to complete and requires 6 graduate courses, 12 research units, additional coursework and an approved thesis. The PhD takes 4-5 years, 10 graduate courses, a dissertation, a qualifying exam and more. The programs are intended for students with a record of computer science academic achievement. However, students with backgrounds in electrical engineering, mathematics, physics, or other exceptional students have been accepted.
Average Net Price Undergrad: 11th-$16,039
Online Cybersecurity Degree Programs:
Cyber Security Resources in California
State Government Entity/Resource
State Government Entity/Resource
State Government Entity/Resource
Other Resource: public/private partnership
Other Resource: nonprofit resource center
Cyber Security Degree Providers in California
Below we've included some of the most pertinent information for choosing a cyber security degree program. Affordability looked at the average in-state tuition rate (where applicable) and divided the range of tuition rates into five bins. Each bin contains a roughly $8,000 jump in tuition. So one $ contains schools from roughly $1,000 in in-state tuition to $9,000, $$'s contains schools from >$9,000 to $17,000, and so forth. Retention rate is one of the best predictors of undergraduate education quality. While the NSA/CAE designation marks programs deemed excellent by the NSA.
California Institute of Arts & Technology
San Diego, California
Financial Aid Recipients
N/A%
Degrees
Associate of Applied Science in Computer Information Systems – Cyber Security
California State Polytechnic University-Pomona
Pomona, California
Financial Aid Recipients
71%
Degrees
Computer Information Systems Undergraduate Program: Information Assurance Track
California State University-Fullerton
Fullerton, California
Financial Aid Recipients
74%
Degrees
Certificate in Computer Forensics I Certificate in Crime and Intelligence Analysis Certificate in Cyber Security Analysis
California State University-Sacramento
Sacramento, California
Financial Aid Recipients
82%
Degrees
Certificate in Information Assurance and Security
California State University-San Bernardino
San Bernardino, California
Financial Aid Recipients
92%
Degrees
B.A. Criminal Justice – Crime Analysis, Technical Proficiency Cyber Security B.S. Administration – Information Assurance & Security Management (Cyber Security) Concentration B.S. Information Systems & Technology – Cyber Security Intelligence Certificate in Cyber Security Master of Arts in National Security Studies – Cyber Security concentration Master of Public Administration – Cyber Security Concentration Masters of Business Administration, Concentration: Cyber Security Systems Security Certified Practitioner (SSCP) Certificate
City College of San Francisco
San Francisco, California
Financial Aid Recipients
55%
Degrees
Network Security Certificate
Cuyamaca College
El Cajon, California
Financial Aid Recipients
80%
Degrees
Associate in Science – Networking, Security and System Administration
Los Medanos College
Pittsburg, California
Financial Aid Recipients
63%
Degrees
Networking and Security (Advanced) Certificate Networking and Security (Basic) Certificate Networking and Security AAS
Monterey Peninsula College
Monterey, California
Financial Aid Recipients
66%
Degrees
Cisco Networking and Security Professional certificate program
Mt Sierra College
Monrovia, California
Financial Aid Recipients
100%
Degrees
Bachelor Degree Program in Information Technology with a Concentration in Information Security
National University
La Jolla, California
Financial Aid Recipients
51%
Degrees
Master of Science in Cyber Security and Information Assurance
Naval Postgraduate School
Monterey, California
Financial Aid Recipients
N/A%
Degrees
Cyber Security Adversarial Techniques graduate certificate Cyber Security Defense graduate certificate Cyber Security Fundamentals graduate certificate Information Systems Security Engineering (ISSE) Certificate MS in Computer Security – Computer Systems & Operations (CSO) Track Ph.D. in Computer Science (may elect Computer Systems and Security specialization)
Sacramento City College
Sacramento, California
Financial Aid Recipients
77%
Degrees
Associate in Science in Information Systems Security Info Sys Security Certificate of Achievement Program
Stanford University
Stanford, California
Financial Aid Recipients
66%
Degrees
Advanced Computer Security Certificate
University of California-Davis
Davis, California
Financial Aid Recipients
70%
Degrees
MS in Computer Science – Information Assurance Focus PhD in Computer Science – Information Assurance Focus
University of California-Irvine
Irvine, California
Financial Aid Recipients
68%
Degrees
Information Systems Security Certificate Program
University of San Diego
San Diego, California
Financial Aid Recipients
81%
Degrees
Master of Science in Cyber Security Engineering Master of Science in Cyber Security Operations and Leadership
University of Southern California
Los Angeles, California
Financial Aid Recipients
64%
Degrees
Master of Science in Cyber Security Engineering