How to Prepare for a Career in Cyber Security
Skip to>>Our comprehensive list of cyber security scholarships
If you're reading this page, then you probably already have a notion of how explosive the growth of opportunity within cyber security has been over the past few years. One of the fastest growing technology fields — which are some of the fastest growing job sets in the world — cyber security had over 1,000,000 job openings in America just last year. While you may have a notion that you would like to pursue a career in cyber security, there are still a few things you need to decide to clarify exactly what sort of position you would like to prepare for. Cyber security is a wide and varied set of jobs, everything from pure management to researching new threats, to responding to a massive attack in real time. Below you will see a variety of ways to sort cyber security positions, based on pay, experience level, job responsibilities, and education required. We hope that our outline below can help to point you in the most productive direction for achieving your goals. For some, that might be returning to school, while others might elect to work on projects on the site or spend a little longer gaining experience in their current position. Check out our guide on how to prepare for a career in cyber security below.
There is an expected shortfall of 1.5 million skilled security professionals by 2020. — Booz Allen Hamilton Study
Discerning Which Cyber Security Job is a Good Fit Based on Educational Requirements
While many cyber security careers require on-the-job training, there are a number of cyber security degree options available at each level. By discerning what degree level you might be interested in, you've already narrowed down the number of cyber security careers that you may automatically quality for.
Associates Degrees
Associate degrees in cyber security examine computer information technology, Cisco networking, network security and more. Associate degrees prepare individuals for entry level positions related to computer support, programming, help desk, IT, and network administration. For further information on where your associate degree can take you check out our resource on the types of associates degrees you can obtain related to cyber security here .
Bachelor's Degrees
Bachelor's degrees in cyber security offer an even wider range of classes and open many more doors towards employment. Topics covered in a cyber security bachelor's degree may include information assurance management (IAM), technology, IT, network infrastructure, software development, network security, forensic, and tactics to defeat cyber crime. Bachelor's degrees prepare individuals for mid to upper level positions like an information security analyst, computer support specialist, cryptographer, forensic expert, and much more. For more information on what you can do with your bachelor's in cyber security we recommend you check here .
Master's Degrees
While years of experience, particularly in cyber security due to the versatility of skills required, are essential for landing an upper level position in cyber security, a master's degree in cyber and information security is also a core component. These master's degrees in cyber security are a fantastic way to stand out and secure advancement in your career. Topics covered in a cyber security master's degree may include information assurance, information assurance for mobile devices, internal protection, vulnerability mitigation, assured software analytics, cryptography and more. Master's in Cyber Security related fields can help to prepare you for senior level roles, or enable you to step into mid level roles with less experience. For more information on what to do with your master's in cyber security check here
Doctoral Degrees
If you decide to further your education with a doctoral degree in cyber security that means you are more-than-likely ready to continue your career through research projects or are seeking policy roles for the future. Doctoral programs like these prepare you for a leadership role in information assurance and cyber security. Some of these programs will continue to train in advanced technical skills and utilize your work/ life experiences. These doctoral programs work well for individuals who are ready to think outside of the cyber security box and who innovate solutions for information assurance.
Determining Future Plans by Examining Cyber Security Career Progressions
Choosing a career in cyber security will often times directly correlate with the experience you have already. Whether you have experience managing individuals in IT firms, security guard experience, or linguistics, matching your skills to the right degree and the right position are essential. For many of the degrees below it is essential to arrive equipped with prerequisite skills though many of the skills are actually acquired on-the-job. Sound a little like a chicken and egg scenario? It's not really. Like with many fields, working your way up into the desired role is how you gain that experience.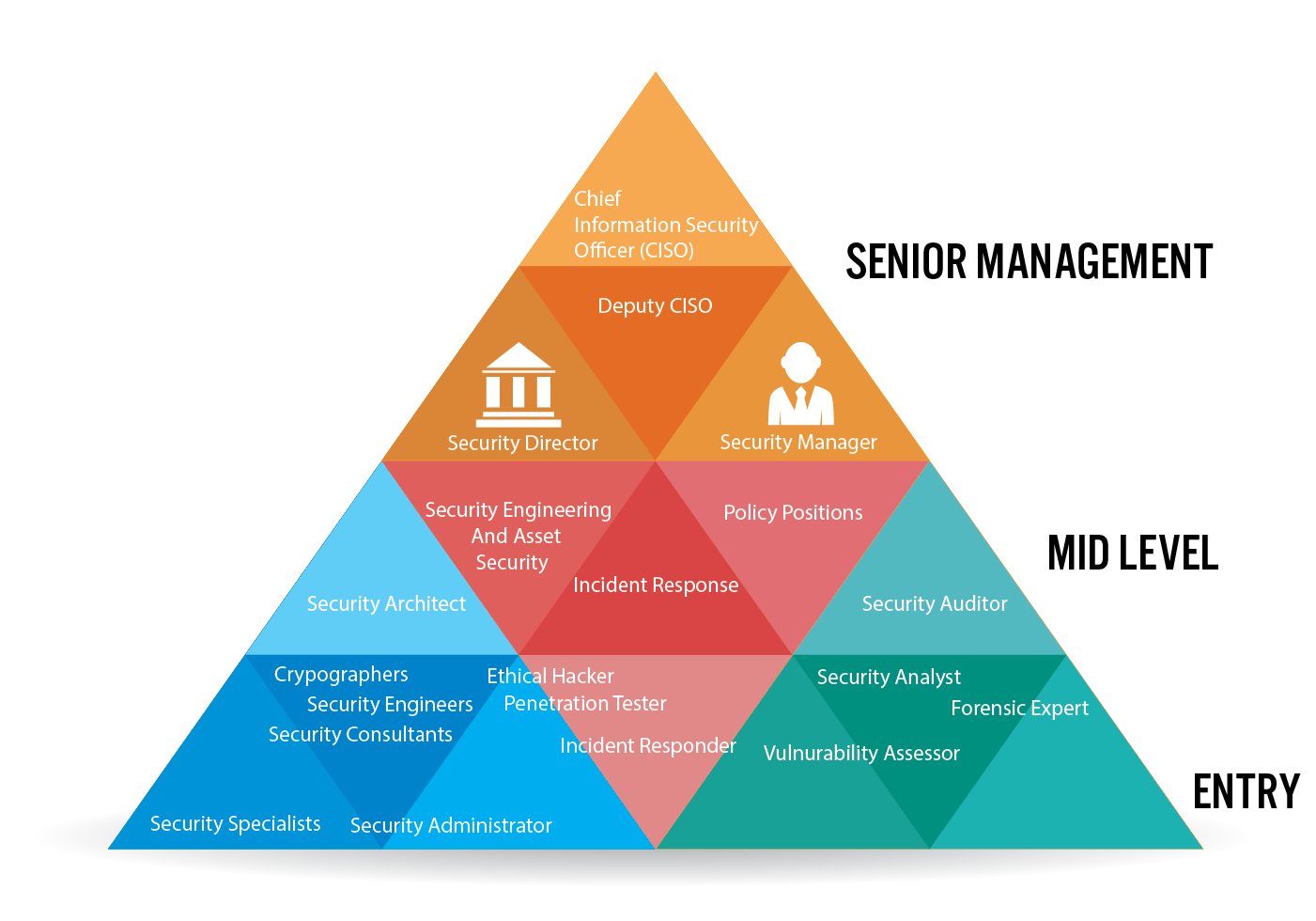 Embed on your site!
Common Paths
While some technology or management experience (even outside of cyber security) and an information assurance degree can help you segue directly into a mid or upper-level cyber security role, more commonly individuals work their way up though a few common paths.
Entry level jobs requiring associates and bachelors can often position you to work up through the engineering ranks of a cyber organization. Check out careers such as network administrator, system administrator, junior security developer, or security administrator for good options for this path.
For those who like to be at the center of all the action, the incident response vertical of cyber security organizations can often be entered with a bachelors degree in cyber security. Additional experience and certifications further pave the way for advancement in this vertical.
For those seeking policy roles, security analyst careers can start with information assurance bachelors. Information assurance bachelors are often very similar to cyber security bachelors, but focus slightly more on policy aspects of cyber security. Alternatively, studying forensic computing can help you to land a job in a government agency or crime fighting unit, another way to enter into policy from the bottom.
For those with management experience and a few years experience with cyber security, a masters degree or a few certifications can often land you a job as a security architect. Security architects are often the head technical leads over an organization's cyber security products.
Deciding your path by salary
For many professionals, the intended path may have dollar signs attached. Knowing what you need to support yourself and your family is a huge motivator. Below we have organized common cyber security careers by salary.
Chief Information Security Officer (CISO)
CISO is a senior-level executive within an organization who both develops and implements information security programming that protects communication systems from internal and external threats.
Skip to>>
How do I become a Security Architect?
A security architect is the individual responsible for maintaining the security of a company's computer system. They must think like hackers to anticipate many of the tactics used to gain unauthorized access.
Cryptographers analyze and decipher encrypted data and work along side law enforcement or government agencies to solve crime, threats or security concerns.
The natural progression after years of IT security experience is to move into a managerial role. One good option for people with hard and soft skills in the industry is a security manager. Security managers oversee entire teams of people who are responsible for protecting the company digital assets from cyber threats.
In this mid-level role, you may be required to: plan, execute, and lead security audits across an organization. You will also inspect and evaluate financial and information systems, management procedures and security controls then provide a written and verbal report of audit findings.
Security engineering is a specialized field of engineering that focuses on the security aspects in the design of systems that need to be able to deal robustly with possible sources of disruption, ranging from natural disasters to malicious acts.
IT security consultants assess software, computer systems, and networks for vulnerabilities, then design and implement the best security solutions for an organization's needs. They play the role of both the attacker and the victim and are asked to locate and potentially exploit vulnerabilities.
A Security Director is the man or woman in charge of overseeing IT security measures throughout an organization. In this senior-level position, you will have strategic oversight of every aspect of security – from staffing and budgets to protocols and incident response.
Security Specialist (High Value Associate Position)
A security specialist may be defined as anyone who specializes in the security of people, assets, networks, telecommunications systems, and IT systems such as a personal bodyguard, security guard, or computer security analyst.
An ethical hacker is an expert who systematically attempts to penetrate a computer system or network for the purpose of finding security vulnerabilities preventing a malicious hacker from exploiting those vulnerabilities.
Penetration testing (also called pen testing) is the practice of testing a computer system, network or application to find vulnerabilities that an attacker (malicious hacker) may exploit.
Skip to>>
How do I become a Security Analyst?
Information security analysts plan and implement security measures to protect an organization's computer networks and systems. Their responsibilities continually expand along with the increase in cyber attacks.
Security Software Developer
A Security Software Developer will either develop security software or integrate security into the design of application software.
A software code audit is a comprehensive analysis of source code who discovers security breaches or violations of programming conventions. This position aims to reduce errors before any given software is released.
Vulnerability Assessor (High Value)
A Vulnerability Assessor (a.k.a. Vulnerability Assessment Analyst) scans applications and systems to identify trouble, vulnerabilities, and flaws. This individuals then presents findings in a comprehensive, prioritized document known as the Vulnerability Assessment.
A Security Administrator is basically the point individual for cyber security systems. Individuals will likely be responsible for installing, administering and troubleshooting your organization's security solutions.
An expert who applies scientific, technical or medical knowledge particularly for the purposes of the law.
An Incident Responder ( CSIRT Engineer or Intrusion Analyst) is a cyber first responder, who rapidly attends to security threats within an organization. This position utilizes a number of forensic tools.